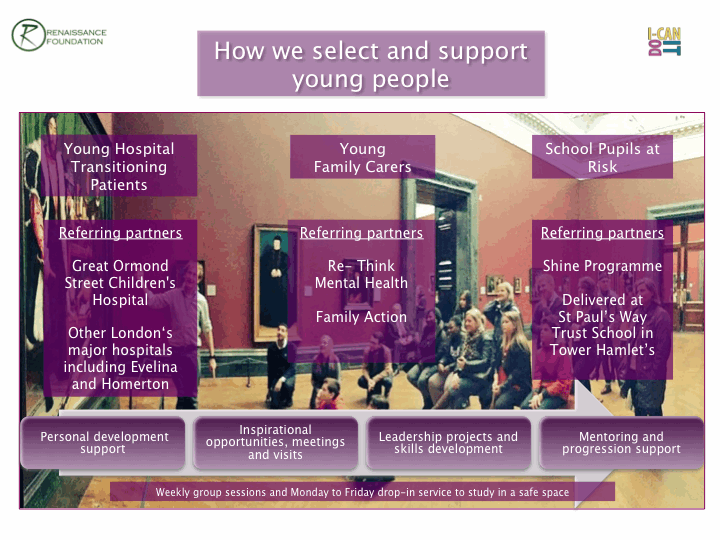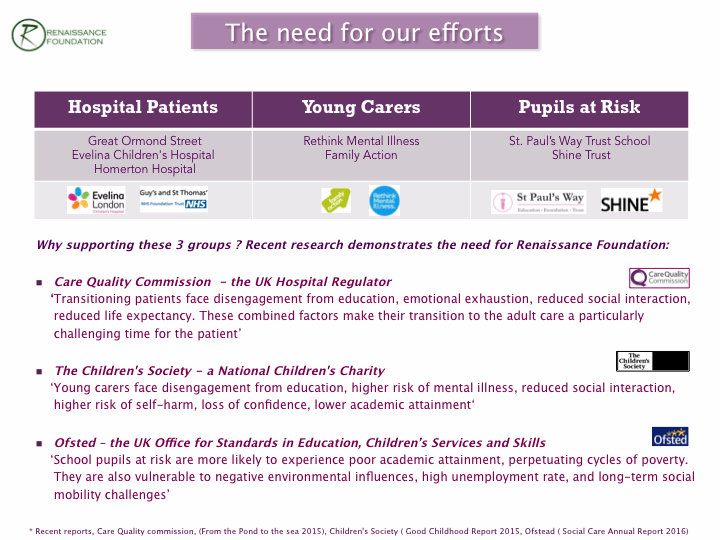 Having established a critical need for greater support for young carers, young hospital patients, and at-risk school pupils in London, Renaissance Foundation is committed to improving the lives of its beneficiaries and offering them a safe space to grow.
One of the most notable consequences of the severe life challenges that our young people have to deal with is a lack of self-confidence and self-belief. That is why our first objective is to improve their resilience. The problems facing our young people can be hard to cope with, and may result in social isolation both from their age-group peers and from their local communities and wider society. The physical and mental problems that our beneficiaries deal with are sometimes not understood or acknowledged by others. Developing a sense of tolerance and resilience to this, and to the more everyday struggles that they have to deal with, is vital for enabling our young people to get the most out of their life. That is why Renaissance Foundation offers personalised, one-on-one personal development sessions to encourage its participants to cement a sense of self-worth, independence, and identity distinct from their lives as carers or in-hospital patients. The sessions remind them that they deserve - and can have - a better future, if they set goals and remain ambitious. Our participants are also given the opportunity to meet role models from various sectors who have themselves overcome challenges, which reinforces their can-do attitude.
The three groups also tend to suffer from anxiety, an inability to cope with their practical issues, and a sense of powerlessness. That is why we aim to develop a set of soft skills and life tools that will equip them, both for now and the future. A series of workshops helps them building team-building and critical thinking abilities. These comprise activities such as cooking lessons with Jamie Oliver, a series of visits on the theme of anti-prejudice, or sessions on how to send a spacecraft to Mars at the Science Museum. We also train them to speak in public. After a few years, our Young Leaders that are in the last year of the programme often present in front of large audiences on various topics, such as talking about Renaissance Foundation at the ONS conference in Oslo, Norway.
Finally, research has demonstrated that the three groups tend to suffer in various degrees from difficulties at school and a lack of development and employment opportunities. Their life challenges impede their ability to prioritise plans for the future, including making adequate preparations and attaining the experience necessary for entering employment. For young carers, the mental and physical responsibilities that come with caring for a close relative during teenage years often prevent them from being able to undertake valuable work experience, or to work in a part-time capacity. Similarly, the time taken up by medical treatments, appointments, and prolonged stays in hospital prevents a lot of young hospital patients from attending school and seeking any form of preparation for the workplace. That is why Renaissance Foundation works to overcome these issues by connecting its beneficiaries with the world of work in various ways and broadening their perspective of work. That is done through careers visits and employability sessions at our corporate partner organisations such as KPMG, CNN or Youtube. We also place a huge emphasis on maturing their digital and social media skills, as experience has shown that this can open a host of vocational opportunities.