Help us keep the doors open and the 'lights on'.
Our youth hub is a key element of our work. It plays a vital role in maintaining the spirit of the Renaissance Foundation community in between visits and workshops. It provides a safe space to offload worries, work on personal projects, and talk about dreams and ambitions. In short, it is a place where our young people can 'keep their lights on' as citizens of this world. However, with government funding having largely diminished, it is becoming increasingly difficult to cover the costs associated with it and other running costs of the charity.
Make a monthly donation of £25 a month, and your money will go directly towards supporting our hub and associated running costs.
As a regular donor you will be kept updated on our work through regular newsletters and will get invited to meet our young people annually at one of our exclusive events. Having you part of our journey will have a tremendous impact on our ability to be there for our young people on an on-going basis.
Other ways you can get involved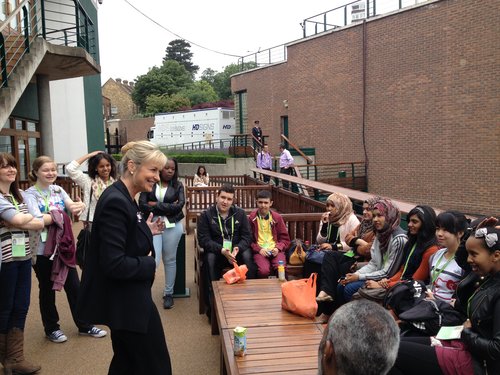 Send us a letter relating a personal story of inspiration and hope. Maybe you overcame a particularly tough challenge in your youth, or are still living with a difficult condition. Share your life lessons with our young people and we will read your letters out loud during one of our drop-in sessions.

Email us at info@renaissance-foundation.com.
Develop a corporate partnership with us.
Your business or employer might be able to help Renaissance Foundation in a number of ways: financially - through CSR support, matching the fundraising of individuals within the organisation, or including us within give-as-you-earn schemes - or in other ways, such as offering work experiences to our young people and encouraging your fellow employees to become mentors.
Email us at info@renaissance-foundation.com.
Launch fundraising activities in benefit of Renaissance Foundation.
If you're a keen marathon runner or if you like to throw a challenge at your friends we would love to hear from you and explore how you could turn these fun activities into something for a good cause.
Email us at info@renaissance-foundation.com.
Special Thanks to the following INDIVIDUALS AND organisations for their kind donations to Renaissance Foundation over the past three years
 
Antony and Amanda Jenkins
JOHN KNIGHT
Lord VERJEE